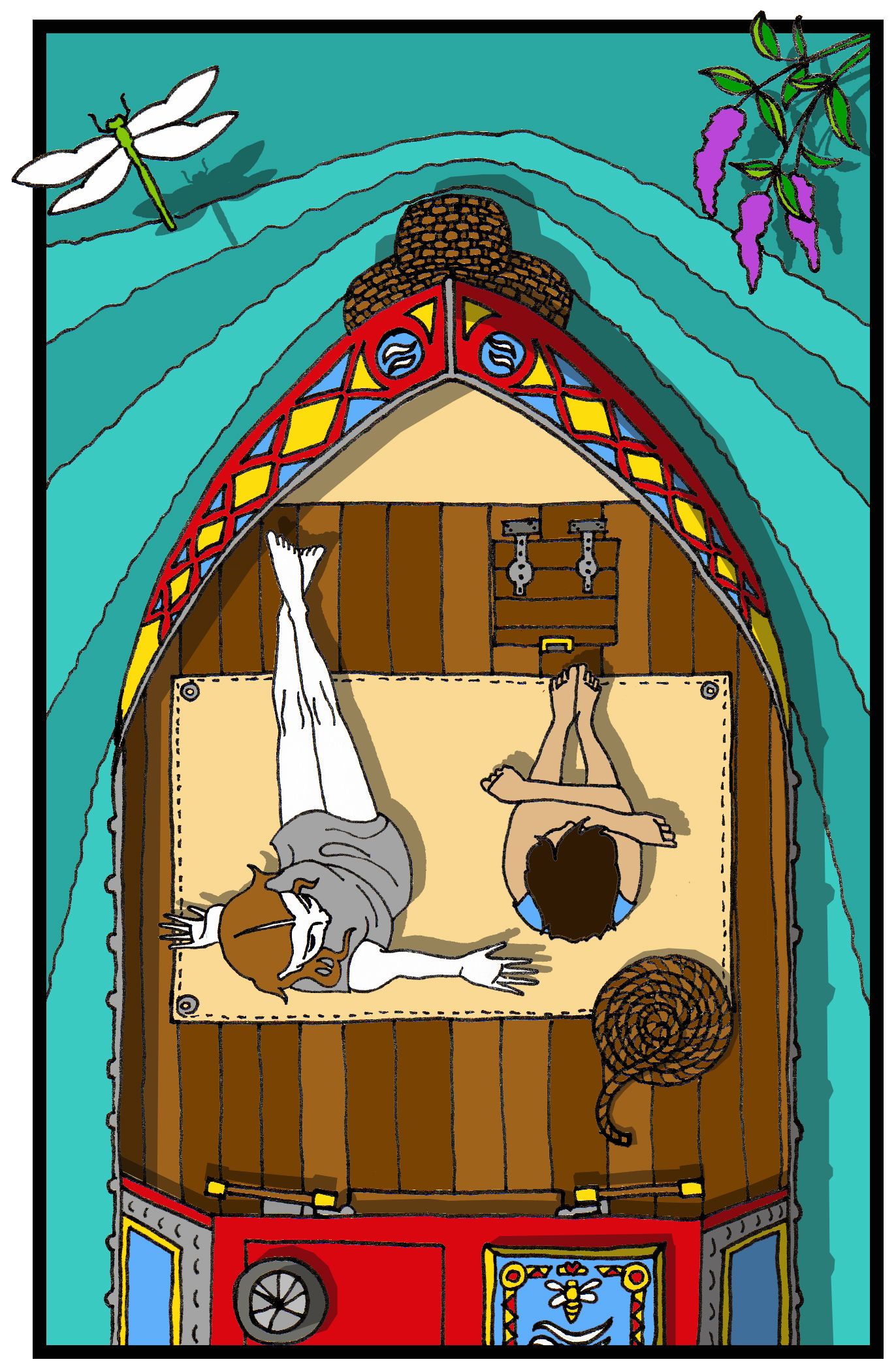 The Wet Roaders are one of the largest of the many tribes that roam the Between. They get their name from the system of rivers and canals, the Wet Roads, along which they travel.
The Wet Roaders are a nomadic tribe who eat and sleep on armoured barges that they share with their livestock – usually goats and a few chickens or ducks. Although the tribe comes ashore to forage, socialise with other tribes and to hunt, they nearly always stay near to the safety of their barges which are well-guarded.
The tribe functions as an extended family, the current head of which is Queen Bee. Queenie's attitude to religion and rules means that the tribe does not follow the laws of the Few and young girls are welcome to remain with the tribe.
Language
The Wet Roaders have their own, unique language. This language is often used to identify each other as true Wet Roaders, at gatherings and slipped into everyday speech. Below is a dictionary of a few of the most common words.
sey – yes / positive
nat – no / not
na – nor
iss – this
sen – is
a – of
ik – I
ikdoiss – I will
oudaniss – who did this?
ikdanniss – I did this
sin – in / within / belonging
usall – we / us / our
huswa – humans
Canertrack – Wet Roaders
drawlu – land-based
kutash – stop

vertok – talk / speak
atten – stand for / meaning
dotchi – daughter
sitchi – son
loffren – friend
chaled – leader
comab – welcome
impit – little
froum – scum
shistot – unpleasant group
discba – lose / get rid / forget
Gaia – nature
gai-loffren – prey / livestock / pet
gai-haffren – predator
kra – war
ikra – power / strength
felseneth – seek
wepek – strange
seydo – go / work / activity
natdo – lazy / inactive
lay – sit / lie / rest
sallash – forever
natash – never
woten – sad
at – and
hafrenga – savage
gai-sall – animal / creature
spey – on / upon
gach – inflict
ikoth – chaos
geoth – someone else / something else
tan – that
huwoth – pride
huwothen – pride in
ikprosim – I am / existing
plubir – more
lofca – peace / peaceful
sena – as
lofsinist – family / hive / tribe
ist – group
lof – love
ash – time
ashiss – now / the present
kutgach – injured / broken
canercha – special / sacred
track – route / path
seytrack – rules / laws
attenlof – queen
youall – your
impit-gaia – mother
tralea – extras / embellishment
glis – shine / improvement
hafkra – fight
barca – protect / barge / fortress
sall – everything / world
kutatten – give-in / surrender
freyd – touch
loffreyd – kiss
niss – but / exception
madu – same / copy